---
I know what you're thinking… isn't Brazilian Beauty for, well, Brazilian waxing. Nope! They do a whole lot more than just a Brazilian.
The wonderful team at Brazilian Beauty invited me into my local salon at Mt Gravatt for a treatment of my choice. I've always wondered how eyebrow and eyelash tinting works, and because I'm quite pasty with essentially white hair at 23 years old (not grew, childish white) I was quite curious about what it could do for me and my invisible eyebrows and eyelashes.
So, taking the team at Brazilian Beauty up on their offer, I rolled into Brazilian Beauty at Mt Gravatt at 9am last Saturday and was greeted by Irene, one of the friendly beauty therapists at the salon. I was quickly whisked away to one of the treatment rooms and made comfortable in minutes despite not usually feeling comfortable in these kind of situations. Irene explained the process, asked me a couple of pre-treatment questions (including when I had last had my eyebrows shaped which I embarrassingly admit was 5 years ago!) and then it was go-time
The whole treatment only took about 30 minutes and included an eyebrow wax and tint, and then the eyelash tint. Irene made me feel comfortable the entire time, chatting away and letting me know what she was doing at each step so I knew what to expect.
And the result.. so good! I've got shaped eyebrows and naturally looking colour on my brows (permanently, well, for 4-6 weeks anyway) and my lashes are so lush in comparison to the nonexistent hairs they were. From the minute I stepped out of the salon I thought it was a job well done, so I was delighted when my partner of 4 years told me I "forgot to take my makeup off" when I got into bed that night. Yep, it tricked him completely! I think it's fair to say I'll be booking myself in for both treatments regularly in the months to come.
I feel like I've made the same transformation Anne Hathaway/Mia Thermopolis did in The Princess Diaries circa 2001 with just one treatment!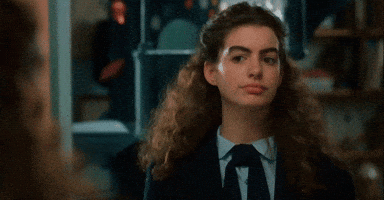 Have you had yours eyebrows and/or eyelashes tinted? I'd love to know what you think and if you get it done regularly…Just leave a comment below or join the conversation on Facebook and Instagram.
---